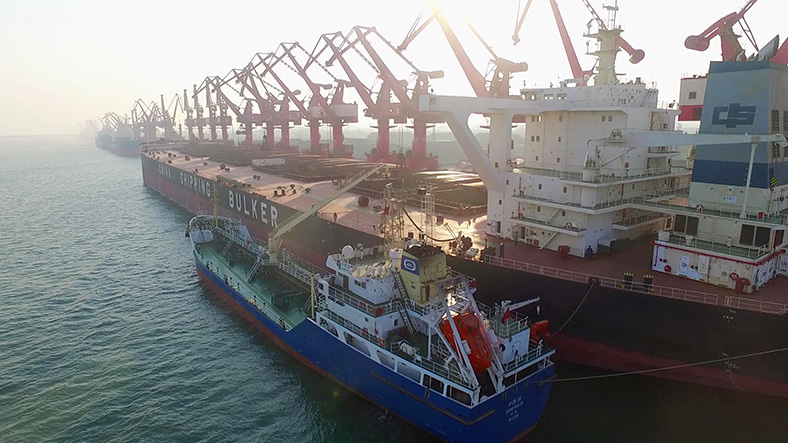 CHIMBUSCO's domestic bunker business covers domestic coastal and inland market. It has more than 20 members in China along the main coastal port cities, such as Beijing, Dalian, Tianjin, Tangshan, Qinhuangdao, Qingdao, Yantai, Rizhao, Lianyungang, Shanghai, Ningbo, Zhoushan, Xiamen, Fuzhou, Quanzhou, Shenzhen, Guangzhou, Zhuhai, Zhanjiang, Beihai, Fangcheng , Nantong, Suzhou, Jiangyin, Taizhou, Yangzhou, Zhenjiang, Nanjing, Wuhan and Yueyang etc. Services cover more than 100 ports and regional market.
CHIMBUSCO owns and controls more than 100 barges of various types, more than 60 vehicles, more than 20 gas stations (including water gas stations, land gas stations and skid-mounted gas stations), as well as well-equipped oil terminals and railway handling lines, and has established an intensive logistics management system and an integrated service network.
CHIMBUSCO enjoys the National Special Transportation Oil Plan and performs the task of transportation oil guarantee. The company has the fuel supply capacity of special ship equipment and offshore platform under complex environment, and has participated in important fuel support tasks for many times. CHIMBUSCO has signed the fuel security agreement with the Ministry of Transport, the Maritime Bureau, the Salvage Bureau, the State Oceanic Administration and other government departments and institutions.
As the largest marine bunker provider in China, CHIMBUSCO has an annual domestic bunker volume of more than 4 million tons and a market share of about 1/3. CHIMBUSCO provide perennial services to China Ocean Shipping Group Co., Ltd, China Communications Construction Group, CSSC, China Changjiang National Shipping Group Co., Ltd and other industry leading enterprises, and provides professional services to domestic shipping companies, shipyards, port logistics enterprises, fisheries market.
As the founding member unit and vice President unit of China Petroleum Circulation Association, and the executive director unit of Marine Fuel Industry Committee of China Petroleum Circulation Association, CHIMBUSCO participated in the formulation of management measures of national refined oil market and led the formulation of service standards of bunker market. As a member enterprise of PETROCHINA, CHIMBUSCO has a strong organizational capacity of high-quality, stable and reliable fuel resources. It has established long-term supply cooperative relations with SINOPEC, CNOOC, SINOCHEM, as well as other major manufacturers around the country.
CHIMBUSCO has a strong research and development capabilities, with the only research and development center of the industry and two research and development bases in Jiangsu and Qingdao. It has 8 product testing centers which can issue legal effectiveness test documents approved by CNAS certification and several oil laboratories. CHIMBUSCO has a complete quality management system, a specialized product testing team, equipped with fuel expert database. Aiming at new problems in the industry in recent years and on the basis of the national standard, CHIMBUSCO established several new oil testing index as the company's product quality standard.